Construction
Supporting your Construction projects with dedicated sector expertise
For over 25 years Rapid Access has worked on the largest and most diverse construction sites in the middle east, supporting everyone from the world's largest contractors to family owned and run businesses. Whether your requirement is on a small local project, or a large capital project, our decades of experience makes us the ideal partner for your work at height needs.
With years of experience of being the market leader's in providing powered access solutions comes the knowledge of what is takes to get the job done swiftly, efficiently and safely. From selecting the best machine for the job to ensuring machine availability and reliability, our dedicated team of experts are always on hand to assist and advise you to guarantee safe working at any stage of the project's lifecycle. So, whatever the requirements are for your work at height, we can find the right solution for your specific situation.
Multi-level Support
Our multi-level support ranges from the sole supply of AWPs and our award-winning portfolio of enhanced safety measures including material handling solutions, anti-entrapment devices and telematic controls, to dedicated on-site engineering and machine management. Our highly skilled staff are on hand to assist you to minimise and avoid risk at every stage in your build programme.

This is best demonstrated through our robust Partnered Managed Service offering commonly seen on major construction projects throughout the the middle east and Europe including Riyadh Metro, Bahrain Airport, Kuwait Cultural Centre and Duqm Refinery and Port.
Partnered Managed Service
Our Partnered Managed Service streamlines the provision of powered access on large construction projects by creating an AWP Management Partnership between Rapid Access, the principal contractor and trade contractors. By working in partnership with our customers and their supply chain we are able to offer a wealth of benefits throughout a project life cycle by identifying and managing all aspects of powered access on-site.

For further information get in contact with your local depot or enquire here.
Advice and guidance you can trust​
We also offer specialist training in Aerial Work Platforms (AWPs), mobile tower scaffolds, safety harnesses and general work at height awareness sessions as well as a range of management, supervisory and general safety courses. Take a look at our full range of training options to see how we can help you.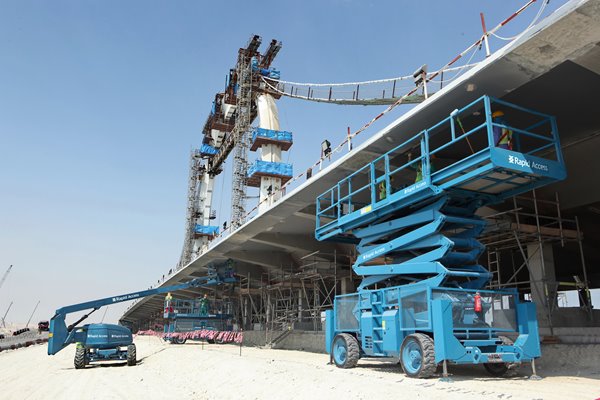 Rapid Access in action
Take a look at how we have helped provide solutions to other construction projects
Case Studies